Goin' To France Sale!!!
on
August 16, 2015
at
11:46 pm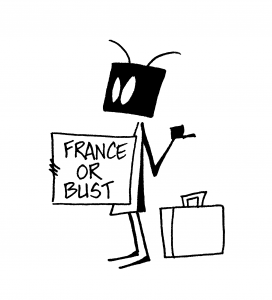 Bonjour, everybody!
Next week I'll be taking a trip to France (where the baguettes come from) and I could use a few extra bucks as everyone is telling me that dining there is akin to purchasing a small yacht. So I decided to run a sale this week on all of my available original art!
For this week only, all original art is only $50.00! That's 50% off the regular price! Just find a strip that catches your fancy and click on the Buy! button under the comic in the navigation. It's gonna be on a first come, first serve basis so get 'em while they're cheap!