Didn't realize this till someone else pointed it out. Holy crap! I've been drawing this nonsense for seven years!
Thank you all for your feedback on the site design. We are gonna be fixing a bunch of stuff in the next week or so based on your suggestions. Yes, the Random button will be put back and we'll definitely make the strip look and function better for both desktop and mobile users.
It'll look better — trust me!
Howdy all!
As you can see, I've made a few changes to the site. And by "I've" I mean "other people I've paid who know way more than I do." You can thank Joel Duggan (from the wonderful webcomic Starcrossed) and his buddy Ryan for helping me out.
I've been sick of how my site looks for a while now, and decided it was high time I finally cleaned house. I also wanted to make my site more mobile-friendly because looking at my old site on my iPhone always made me feel like I was looking at a website from 1997.
As some of you might have noticed – there are no longer any ads! To be honest, I was just as sick of 'em as you guys probably were. So foosh! Out they went. Instead, I'd much rather be a reader-supported webcartoonist through things like Patreon.
There will be some fine-tuning to the site throughout the next week or two (need to get the Bug Martini title back on there), so lemme know if something really bothers you about the layout. Not saying I'll necessarily make the change, but I will definitely consider it.
For now: enjoy the ad-free shenanigans!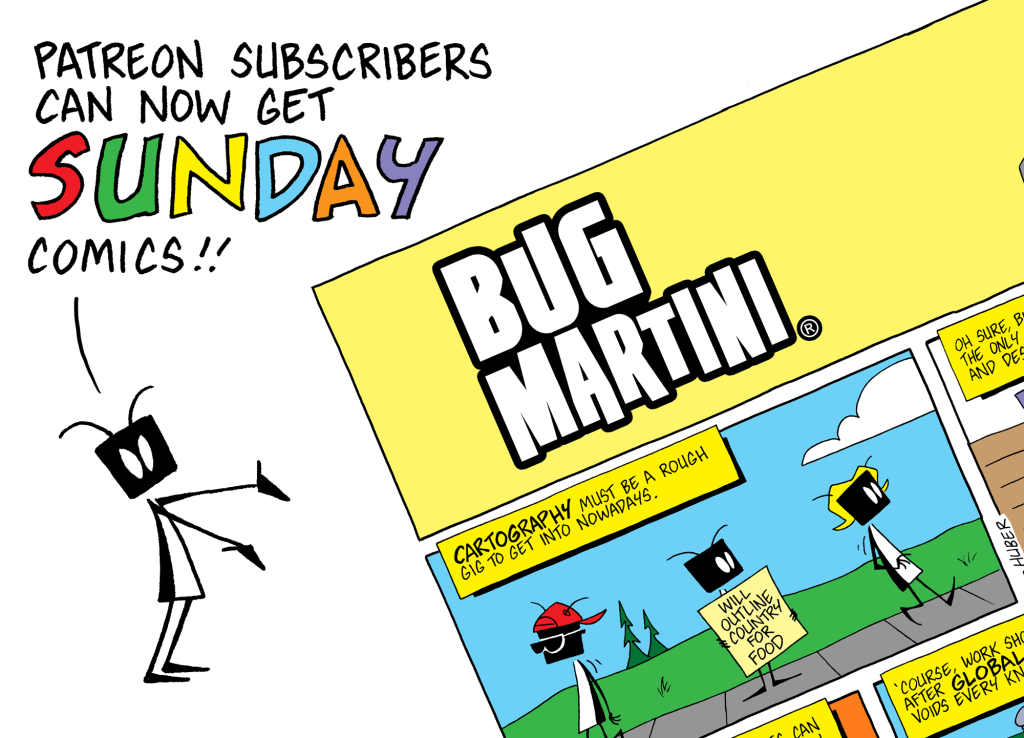 That's right! Starting this Sunday (September 4th) my Patreon subscribers will be able to view Bug Martini Sunday comics! A new one every Sunday.
I'm drawing them just how they would appear if they were in your newspaper (older people: please explain to younger people what newspapers are). I've already drawn two of these and I absolutely love how they look.
These will be a new reward tier for $5 per month on Patreon. If you're not a subscriber, now is a great time to start! Click here or on the image above to go to my Patreon page.
[Update] I originally offered this reward at $10.00 per month but some people thought that was a bit too high and I've lowered it to $5.00. Call me Crazy Adam because my prices are INSANE!!!